Excess & Surplus Products
Coverage Solutions in all 50 States!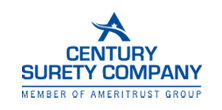 Century Surety, also known as Century Insurance Group, provides commercial excess & surplus lines coverage solutions for unique risks in all fifty states. Century partners with carefully selected wholesalers to meet the coverage needs of small to mid-sized businesses.
Founded in 1978 to write coal mine reclamation bonds, Century began writing excess and surplus lines insurance in 1984. In 2008, Century joined the AmeriTrust family and focuses on meeting our customer's commercial E&S needs.
Most of Century's agents and brokers have been with the company for more than a decade. This mutual commitment and support is a testament to the time and attention Century takes to build relationships. In a marketplace that has seen companies come and go, Century attributes its staying power to its commitment to underwriting discipline, and its exceptional wholesale partners.
Century focuses on premises-driven accounts, but our General Liability coverage also offers an attractive product for longer tail risks, such as contractors.
We offer property coverage on the vast majority of commercial property classes.  Most of properties Century covers are small to mid-sized fixed property accounts.
Our team can specifically tailor an Inland Marine solution for many smaller clients and their unique risks.
Our Environmental Contractor's and Consultants Liability Package (ENV) is a comprehensive environmental casualty insurance policy designed specifically for environmental contractors and consultants and can be tailored to meet their individual needs.
Our Garage & Auto Dealers division is extensive, targeting a wide variety of classes. We work with agents who take a proactive approach to managing their book of business for these types of risks.
This area is consistently rated as providing the best service in the company. We write the vast majority of classes for this coverage.
Century's Ocean Marine division specializes in the small risks that  general agents run across. We have the ability to utilize admitted paper for certain risks.
Century's Commercial Surety Program, Star Surety, offers standard surety underwriting and support in license-permit bonds, court and probate bonds, lost instrument bonds, public official bonds and contractor wage and welfare bonds.